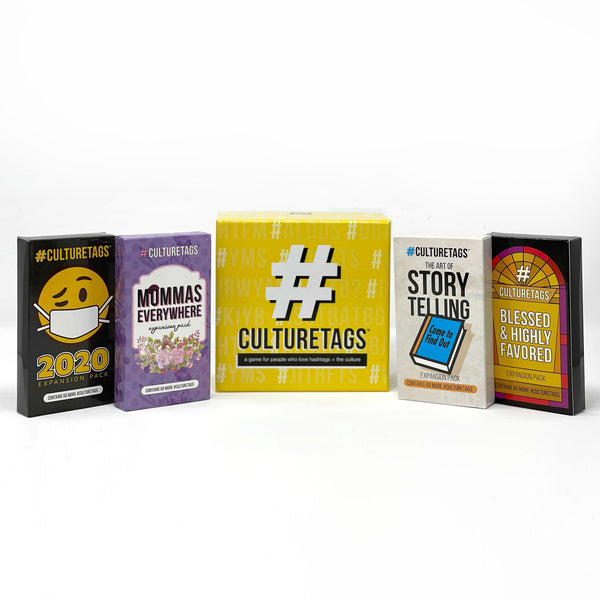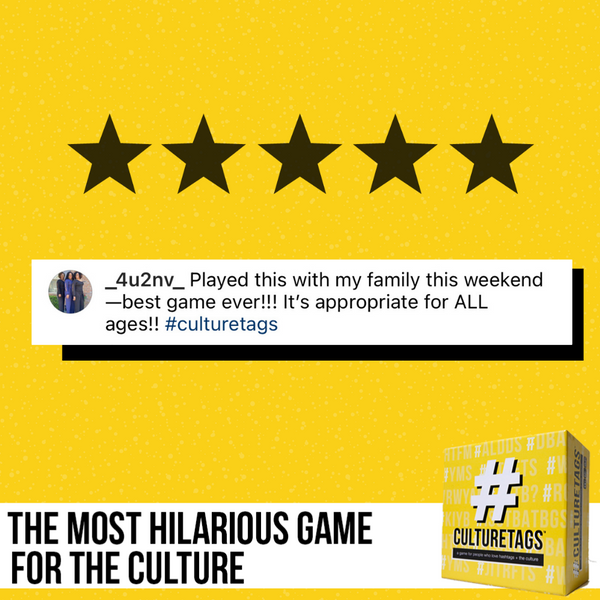 CultureTags + 4 Expansion Pack Bundle
FREE SHIPPING ALERT! This bundle includes the #CultureTags Core Game + Four Expansion packs to keep game night going!
CORE GAME:
With 350 cards spanning across seven categories, the game is multigenerational with hours of play! Categories include: Black Twitter, Church, Daily Sayings, Family & Friends, Songs & Lyrics, TV & Film and Words to Live By! Each set also includes 5 DIY cards to keep the game going with your own custom CultureTags!
This viral game is simple to play (or is it?). Grab a card, show your team the #CultureTag (acronym) and give hints to help them guess the phrase without saying what it is. Can't figure it out? Pass! Just get through as many answers as possible before your time runs out!

CONTENTS:
350 Cards
Sand Timer
Dry Erase Marker
5 Blank Cards
Family fun for everyone!
EXPANSION PACKS:
Mommas Everywhere
2020 Review 
The Art of Storytelling
Blessed & Highly Favored 

Each expansion pack includes an additional 60 new #CultureTags to add to the core game.